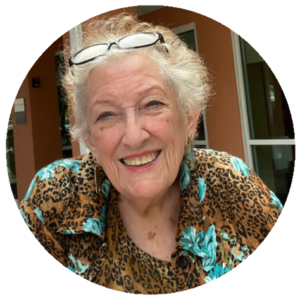 Judith "Judy" Bischoff Youngblood was a caring mother, grandmother, teacher and friend to many over her 86 years of life. She left this world on February 24, 2022.
She was born to Jack and Mary Bischoff on November 12, 1935 in Huntington, IN. She moved with her parents to Jacksonville, FL over the Christmas break of 1949. After graduating from Jacksonville's Landon high school in 1953, Judy went to the University of Florida where she met her husband, Frank Youngblood. Together, they had 3 children: Steve, David, and Mary Alice. Judy graduated from the University of Miami in 1957 and went on to receive her Master's Degree in Education from the University of North Florida in 1977.
Judy worked as a teacher in Miami and Jacksonville before taking time off to raise her children. She later went back to work for and retire from the City of Jacksonville. In retirement, Judy was a dedicated and passionate volunteer for Republican efforts in Jacksonville and the State of Florida. Most recently she was a Republican State Committeewoman for Duval County.
Survivors include her son, Steve Youngblood (Rena) of Alpharetta, GA; her son, David Youngblood of Jacksonville, FL; her daughter, Mary Youngblood of Snellville, GA; grandson, Chris Youngblood of Roswell, GA; grandson, Michael Youngblood of Alpharetta, GA; grandson, Jace Youngblood of Jacksonville, FL and her cat, Rocky.
A Celebration of Life service will be held at 1:00 PM Saturday, March 5, 2022, at Christ Church Pentecostal, 2226 Saint Johns Bluff Rd S, Jacksonville, FL 32246.
In lieu of flowers, donations may be made to Cat Ranch Sanctuary, Inc at https://catranchsanctuary.org/support-cats-and-dogs.